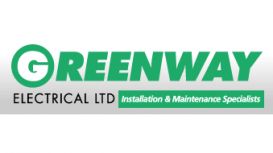 Do you need an electrician in Preston? Greenway Electrical has remained professional and reliable since 1956. Call us today.
Looking for electrical design, installation or maintenance services, electrical condition reports or electricians in Preston?
Greenway Electrical have earned a reputation in the area for reliability and efficiency.
---
Services

Using the latest software and decades of professional experience, Greenway Electrical are an electrical design consultants in Preston. We design a wide range of electrical systems for industrial and commercial properties of all shapes, sizes and types.
Whether we're providing lighting for a showroom, a power system for an office or security systems for shops, our qualified electricians will identify the most suitable components to meet your needs as well as the latest regulations and legal requirements.

For emergency lighting systems installation in Preston, contact Greenway Electrical now. Emergency lighting systems ensure that your staff and customers can safely find their way around your industrial or commercial building in the event of a power cut or serious incident. They should be a vital consideration for the protection of the public, should an evacuation be required.
Emergency Lighting is a crucial requirement for protection of workers and the public – get yours today.
We can plan and install your system, taking evacuation routes into account and identifying areas that will require the lighting and signage. All legal and health and safety requirements are taken into consideration, and qualified electrical engineers will ensure that all equipment is tested after installation so that it works effectively if it's ever needed.
Emergency lighting, like your fire alarm system, should be regularly checked and maintained. Arranging a planned maintenance contract allows us to visit at regular intervals to test your system for efficiency and to ensure that power is reaching all lights and signs effectively.
If you're considering emergency lighting installation for your property, we'll be happy to discuss your needs in detail. Contact us today, and we can arrange a site visit and a quote.
Reviews and Ratings
We do not have any reviews about Greenway Electrical available right now.